SEND News
Top Tips
Differentiation
Whilst differentiation hasn't been a popular buzzword in recent times, as schools are rightly concentrating on quality first teaching and mastery of subjects. Now, more than ever, is when teachers are being expected to adapt their practice both in the classroom and through remote learning. Where children have Special Educational Needs, whether on SEND support or with an EHCP, it is often difficult to ensure they are still able to access the education and learning effectively. Home schooling parents are also concerned, as they don't always have the teaching 'knowhow' to adapt the work accordingly.
NASEN have produced the following guide on differentiation, which can easily be adapted to supporting children and families at home:
Differentiation Nasen.pdf (egfl.org.uk)
An overview of strategies from the document is shown in the table below:
Type of need

Possible differentiation strategies

(this list is not exhaustive but gives some ideas; all will depend upon the individual pupil and their strengths and needs)

Reading difficulties, including dyslexia

• Reduce the amount of reading required – this could be done by summarising, or by using text to speech software, or using diagrams etc. instead of text

• Simplify any reading – use bullet points instead of paragraphs, shorten sentences, use simple vocabulary

• Make reading material easier to read – use a larger font, use a different font, use colour to highlight or categorise; avoid italics, use bold instead

Writing difficulties, including dyslexia

• Reduce the amount of writing required – ask for oral presentations, or use of pictures/diagrams/video etc.

• Use IT packages such as mind mapping, speech to text, planning tools etc.

• Review any written work for its content rather than accuracy

• Offer support for spell-checking, grammar checking etc.

Speech and language difficulties

• Be aware that this could include speech sound production, understanding of language, the ability to express yourself in language and the social use of language

• With a speech production difficulty – don't speak for the person, listen to the message rather than the presentation

• With understanding – simplify the language you use, try to avoid metaphors, sarcasm etc.

• With expressive language – provide time to prepare and practise, listen to the message content

• Understand the issues that some pupils have with using language appropriately in a social context and make allowances
Autistic spectrum conditions

• Prepare pupils in advance for new things or people or changes to routine

• Be aware that their social preferences may be different e.g. they are happier on their own whilst also wishing to make friends, but are not sure how to build and maintain friendships

• Provide software and resources that support the way they work

• Be aware that higher level language skills may be challenging e.g. metaphor, idiom etc. avoid sarcasm as it may be taken literally

• Give very clear and precise directions/instructions

Memory and attention difficulties, including ADHD

• Provide written notes as well as giving instructions etc verbally

• Present information in different ways e.g. using pictures, diagrams etc.

• Build in regular short breaks

• Provide clear structure for the pupil's tasks and offer regular support

Organisational difficulties, including dyslexia

• Provide written notes as well as giving instructions etc. verbally

• Present information in different ways e.g. using pictures, diagrams etc.

• Provide clear structure for the person's tasks and offer regular support

• Offer software/resources that help with organisation e.g. alarms, reminders etc.
If you would like any further advice on this area, please speak to your Learning Support Advisory Teacher.
---
What are the ZONES of Regulation?
Devised by Leah Kuypers, The Zones of Regulation is a framework for use with children and young people designed to foster self-regulation and emotional control. It offers a visually oriented tool to simplify how children and young people think about and manage feelings and emotion states.
WHAT DO WE MEAN BY 'SELF-REGULATION'?
Self-regulation may be defined as the capacity to manage one's thoughts, feelings and actions in adaptive and flexible ways across a range of contexts. It encompasses a number of elements including:
Self-control
Resilience
Self-management
Anger management
Impulse control
Sensory regulation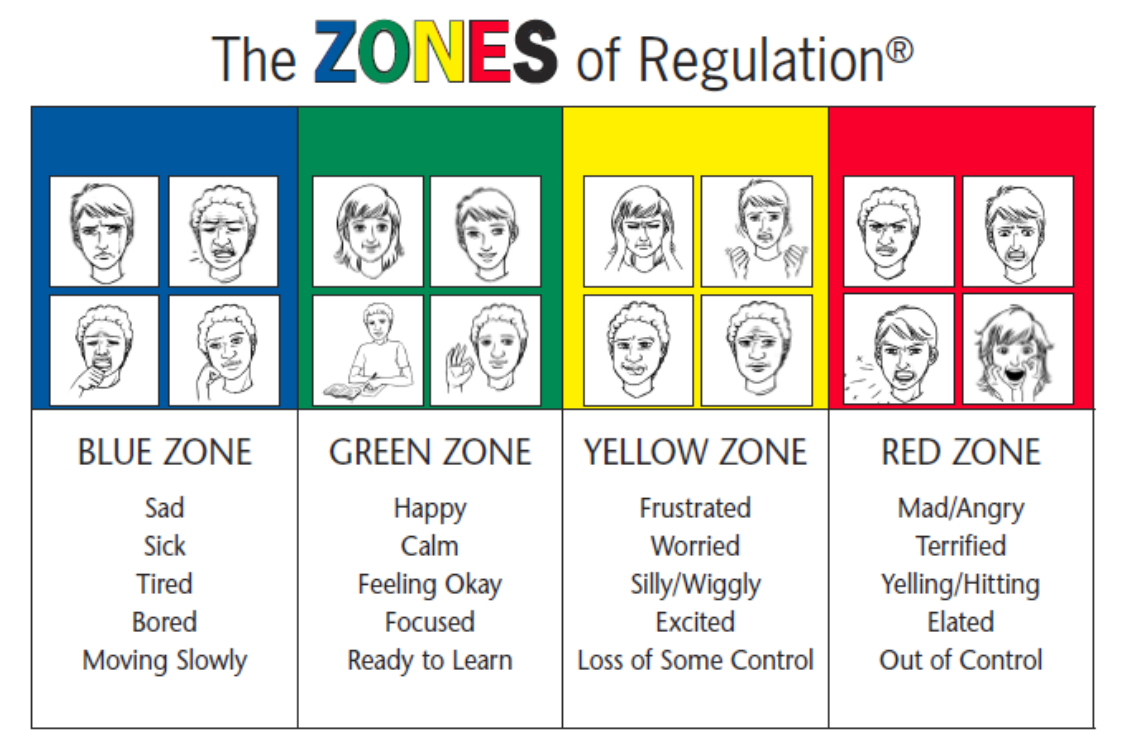 The Red Zone is used to describe extremely heightened states of alertness and intense emotions. A person may be elated or experiencing anger, rage, devastation, or terror when in the Red Zone.

The Yellow Zone is also used to describe a heightened state of alertness and elevated emotions, however one has more control when they are in the Yellow Zone. A person may be experiencing stress, frustration, anxiety, excitement, silliness, the wiggles, or nervousness when in the Yellow Zone.

The Green Zone is used to describe a calm state of alertness. A person may be described as happy, focused, content, or ready to learn when in the Green Zone. This is the zone where optimal learning occurs.

The Blue Zone is used to describe low states of alertness and down feelings such as when one feels sad, tired, sick, or bored.
The Zones can be compared to traffic signs. When given a green light or in the Green Zone, one is "good to go". A yellow sign means be aware or take caution, which applies to the Yellow Zone. A red light or stop sign means stop, and when one is the Red Zone this often is the case. The Blue Zone can be compared to the rest area signs where one goes to rest or re-energize.
All of the zones are natural to experience, but the framework focuses on teaching students how to recognize and manage their Zone based on the environment and its demands and the people around them. For example, when playing on the playground or in an active/competitive game, students are often experiencing a heightened internal state such as silliness or excitement and are in the Yellow Zone, but it may not need to be managed. However, if the environment is changed to the library where there are different expectations than the playground, students may still be in the Yellow Zone but have to manage it differently so their behaviour meets the expectations of the library setting.
WHAT TOOLS CAN HELP THE PROCESS OF SELF-REGULATION?
Different Zones require different responses in the domains of sensory, calming and thinking techniques.
Blue Zone tools: help wake up our bodies, feel better and regain focus.
Green Zone tools: help us stay calm, focused and feeling good. These are often proactive strategies.
Yellow Zone tools: help us regain control and calm ourselves.
Red Zone tools: help us stay safe and start to calm down. If your child is in the Red Zone…
• Limit verbal's – this is not a teachable moment.
• Discuss use of tools when child is regulated.
• Plan for if/when child is in Red Zone. "Wonder if this strategy would help…?"
If your child is confidently using words to describe their emotions, they don't need to revert to Zones language; however, it will be useful for them to know the strategy groups that will help them.
KEY POINTS
• There is no 'bad' Zone – feelings are natural and we need to acknowledge them.
• Everyone experiences all of the Zones at different times and in different circumstances.
• We can't change the way children feel BUT we can help them manage their feelings/states and behaviours. "It's OK to be angry but it is not OK to hit…"
• You can be in more than one Zone at a time (e.g. sad AND angry).
FURTHER INFORMATION
Schools are welcome to contact your link Educational Psychologist for further information. Please also see the websites www.socialthinking.com and www.zonesofregulation.com
Adapted by Dr Jane Park from the original work The Zones of Regulation™ Curriculum by Leah Kuypers 2011, ©Think Social Publishing, Inc. All Rights Reserved.
---
Top Tips for Teachers using Microsoft Teams with Sensory Impaired Children
1. The Sensory Inclusion Service (SIS) are here to support you
Make use of your Teacher of the Deaf or Qualified Teacher of the Visually Impaired. They can advise you about how best to support the needs of the Hearing Impaired pupil, Visually Impaired pupil, or pupil with a Multi-Sensory Impairment in your class.
2. Send lesson materials in advance
Sending copies of PowerPoints (or other lesson resources) to pupils before the lesson will enable them to look at the resource before the lesson and have it in front of them when the teacher is talking. This will also mean that:
The Hearing Impaired pupil can focus on the teacher's face so that they can lip-read. Listening to a live voice via audio or a recorded voice is very challenging for a child with a hearing loss. They can also have access to the content of the resource and any unfamiliar or new language prior to the lesson.
The Visually Impaired pupil will have been able to look at the resource prior to the lesson and enlarge it if needed to their preferred size. It is also easier for them to read when they have a copy of the text in front of them, rather than when the resource is shared through Teams.
3. Keep your video on and use the 'spotlight' function.
It is really important for children with a Sensory Impairment to be able to see their teacher's face during lessons. Do you know how to use Spotlighting on Teams? As a teacher, you can 'Spotlight' yourself, meaning that your spotlighted video becomes the main screen that every participant sees. For a guide about how to use this feature, please see below.
4. Good Practice for how to set yourself up for a Teams session:
Ideally have a blank wall behind you (or at least an uncluttered background).
Blurred backgrounds make it difficult for the child to see your hands/physical items that you are working with.
Avoid natural light, especially coming from behind you (as this can obscure your face).
Ensure all other participants are muted (if someone wants to talk they can 'raise [their] hand'.
Limit background noise in your environment (there is also a background noise reduction function available in 'settings' before you join the call)
For more information on how to use this feature, please download the Top Tips for Microsoft Teams from the Sensory Inclusion Service (SIS).
Download: Top Tips for Microsoft Teams from the Sensory Inclusion Service (SIS)
Some other considerations when using Teams:
If sound is needed when sharing a video clip for the class to watch, make sure that you 'include computer sound' before sharing the file. When you click on 'share content', this option is found above the documents that you are going to share. Any files with audio should have sub-titles for Hearing Impaired pupils.
The chat feature in Teams can be very challenging for Visually Impaired pupils to access. Hearing Impaired pupils may prefer to use the chat feature to let the teacher know if they cannot hear/cannot follow what the teacher is saying etc.
It may be possible for IT to change the settings so that sessions can become more collaborative. School IT administrators may be able to help if you have specific issues, for example if you are not able to share documents or get the child to 'request control' to work on a document together. Children could work on a document at the same time as a staff member when working 1:1 or in a small group.
There are many features to use on Teams. If you would like more advice and support, please contact SIS or your Teacher of the Deaf/Qualified Teacher of the Visually Impaired directly.

Email - SENDandInclusion@telford.gov.uk
By phone - 01952 385269
---
Remote Education – Top Tips
Government Guidance has been released with remote education based on research and visits to schools and colleges.
What's working well in remote education
Ofsted have published advice to help schools, college leaders and teachers to develop their remote education offer.
Ofsted publishes short guide to what works well in remote education
---
Supporting Teachers to Support Parent - 'How you can help your child manage anxiety during this Pandemic'
"A lot of anxiety is rooted in worrying about the unknown and waiting for something to happen – Coronavirus is that on a macro scale" (Rosie Weatherley: Mind)
Anxiety is an uncomfortable feeling of fear or impending disaster. We feel anxiety in a psychological and physical way when we feel that we cannot manage an event or situation. How can you help your child to stay safe in this Coronavirus climate and simultaneously ensure that their anxiety doesn't spiral out of control?
As parents we can role-model a tolerance of uncertainty. We do not always know the answers and solutions to situations. It is important to manage our own search for answers which might not be there and our intake of information about Coronavirus and how much information we pass on to our children. Obviously our children need to know the facts and the rules regarding social distancing for example but we should try to limit their exposure to unreliable information and balance the uncertainty of not knowing with some focus on the certainty of things they do know and which continue: the birds still singing outside, the post which is still delivered and their bedrooms which still get messy and need tidying up (occasionally).
As parents we need to signal to ourselves and to our children that we are still safe in these somewhat threatening times. Small everyday routines can help us feel settled and safe. It is also important to strike a balance between having a routine and making sure that each day has some variety.
Encourage your child to keep connected. Keeping personal relationships active through communication is crucial in maintaining perspective, elevating mood and allowing distraction away from their worries. Maintaining friendships is particularly important for older children who need to be part of a social group and are very attached to and reliant upon their relationships with peers. Support your children in whatever way is possible to maintain their relationships with their peers.
Appreciate that teenagers enjoy some independence – it is the time in their lives when they are learning to become more independent. Right now they are at home with their parents 24/7 and they do need time to be separate from you. Don't smother them with too much of your time.
The coronavirus has taken children away from their normal social activities and young people are spending more time on their own with their families and are getting less reward from their daily social lives. To keep children's moods elevated it is important that they still do some things with a feel good factor. These must be activities that matter to them and which are not prescribed by others. Help your children to identify what matters to them and what will provide them with a feel good factor.
Move away from the narrative of your children having to "catch-up", have "extra lessons" and fears of "falling behind". This view has been reflected in the media and puts a high level of pressure on children. Instead focus on a narrative centred around enjoyment of and motivation for life-long learning and acknowledge new skills your children might have learned and their adaptability and resilience in these changed times.
Encourage your children to exercise – access nature and sunlight wherever possible. Exercise helps your child by reducing any excess adrenaline build up associated with anxiety. Purposeful regular deep breathing breaks can also help your child to reduce anxiety-induced hyperventilation and shallow breathing.
Anxiety UK suggests the APPLE technique to deal with high levels of anxiety. As parents you can teach this technique to your children and practise it with them.
Acknowledge – notice and acknowledge the anxiety and uncertainty as it comes to mind.
Pause – Don't react as you normally do. Don't react at all. Pause and breathe.
Pull back – Tell yourself this is just the worry talking, this need for certainty is not helpful and not necessary. It is only a thought and thoughts are not facts.
Let Go – Let go of the thought or feeling. It will pass. You don't have to respond to it. Imagine it floating away in a bubble or cloud.
Explore – Explore the present moment – because right now – in this moment all is well. Notice your breathing. Notice the ground beneath you. Look around and notice what you see, what you hear, what you can touch, what you can smell. Right now. Then shift your attention to something else – what you need to do, or what you were doing before you noticed the worry or do something else, mindfully, with your full attention.
---
Supporting Parents
As there is a vast amount of learning happening at home at the moment, we thought that our top tips this month would be aimed at parents. SENCOs can share these tips with parents and provide support for using them.
Top Tips for parents supporting children with SLCN at home:
Research shows that for children with poor language / highlighted speech, language and communication needs (SLCN), a slower speaking rate helps them to process spoken information.
Pause time:
Take 2 - 6 seconds after asking questions for your child to think of an answer. They should be quiet during this time to give them chance to think about their response. Maybe this is something you could try with the whole family, see what other responses are?
Slowing down the rate of speaking:
Slow down speech by 25%: A slower rate of speaking help students with SLCN to process spoken language. It's a balance to speak slowly enough to support understanding without sounding patronising. You can try out how this feels by taking a passage of text, time yourself reading through it and mark where you get to in 20 seconds. Then read through again but aim to get to the same point in 25 seconds.
Simplify teacher talk:
Lengthy sentences are harder for students with SLCN to process. Break down sentences into chunks and give instructions one at a time.
Simplifying adults' language involves:
Reducing the amount of talk, creating space for more dialogue.
Breaking down instructions into a series of separate sentences (chunking) and / or using visual support to help sequence them. Visual support can be a series of doodles in cartoon frames representing a series of instructions, or more simply, a brief sequence of instructions.