SEN Support
SEN Support is a staged approach to identify needs, providing support which will involve conversations with school / setting, parents / carers, children and young people. The staged approach is in the form or a four part cycle known as the graduated response. The graduated response starts at a whole school level. Teachers are continually assessing, planning, implementing and reviewing their approach to teaching to all children. However, where a potential special educational need has been identified, this is a staged process that becomes increasingly personalised.
Role of Educational Settings
The SEND Code of Practice 2015 sets out the duties which must be observed by early years settings, schools and further education providers identifying children and young people with Special Educational Needs and Disabilities (SEND) and providing support for them.
Treating people equally means treating them differently according to their needs. All learners are unique and all are entitled to an education that enables them to make progress so that they achieve their best, become confident individuals fulfilling lives and make a successful transition into adulthood.
Mainstream early years settings, schools and colleges will support most learners with SEND by making reasonable adjustments to remove or reduce barriers to learning. They will use specific parts of their budget (called 'notional SEN funding' and for some pupils 'Pupil Premium funding') to create provision that is additional to or different from that made generally for other learner of the same age in school.
Settings are required to use their best endeavours in not only identifying children and young people with SEND but also in providing support for them. The support that is ordinarily available must be set out and published by the educational setting and placed on its website.
The graduated approach to meet Special Educational Needs
High quality teaching, differentiated for individual pupils, is the first step in responding to pupils who may have SEN. Additional intervention and support cannot compensate for a lack of good quality teaching. Schools should regularly and carefully review the quality of teaching for all pupils, including those at risk of underachievement. This includes reviewing and where necessary improving teachers understanding of strategies to identify and support vulnerable children and young people and their knowledge of the SEN most frequently encountered.
Where a child or young person is identified as possibly having SEN, settings are expected to adopt a graduated response following the Assess, Plan, Do and Review cycle.
Where a child or young person is identified as having SEN, the setting should take action to remove barriers to learning and put effective special educational provision in place. This SEN support should take the form of a four part cycle, through which earlier decisions and actions were revisited, refined and revised with a growing understanding of the pupil's needs and of what supports the pupil in making good progress and securing good outcomes. This is known as the 'graduated approach' and is shown in figure 1.
Figure 1 – The Assess, Plan, Do, Review cycle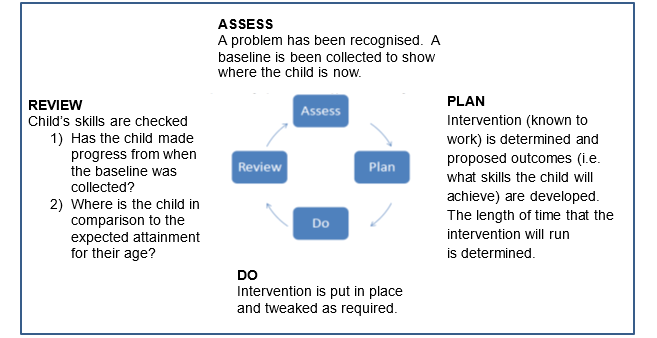 The graduated approach draws on more detailed approaches, more frequent review and more specialist expertise in successive cycles in order to match interventions to the SEN of the child or young person.
5 key ingredients to evidence a 'high quality' graduated response.
1. Telford and Wrekin Council fully expects individual learner support plans/provision maps showing 'waves' of support that feature assess, plan, do review cycles at universal (element1), targeted (element 2) and specialist (element 3) levels.
2. Within individual learner support plans/provision maps there are clear targets with well-defined outcomes. These are articulated using SMARTA (Specific, Measurable, Achievable, Realistic, Time, Agreed) principles. A baseline must be included so that the starting point of the child or young person is known and evaluation should focus on progress made from that starting position.
3. Outside agencies have contributed over time throughout APDR cycles and their involvement is clearly evidenced.
4. Progress data is provided over time and clearly shows where the child is currently attaining and how that compares to the expectation for children of the same age.
5. Person-centred approaches have been used throughout cycles of APDR. Individual support plans/provision maps show that children and parents have been involved in target/outcome setting and their views and wishes are represented.
Use of outside professionals
The use of outside professionals within educational settings are critical to supporting children and young people with special educational needs both in terms of early intervention, building capacity and the provision of specialist advice for those learners who require cycles of APDR.
The Code of Practice 2015 highlights that establishments are likely to need to commission these services directly and that such services include, but are not limited to, Educational Psychologists, Specialist learning and behaviour support services and teachers of Hearing/Visual Impairment. This may also include therapists such as speech and language therapists, occupational therapists and physiotherapists.
In Telford and Wrekin there is a changing culture away from a traditional expert model of delivering services by educational professionals (where one-off assessments and standalone reports have been completed) to actively contributing to cycles of APDR. Evidence that Indicator 3 has been met will include meaningful contribution of appropriate professionals, relevant to the child or young person's need, and that recommendations have been put in place and reviewed over time.
SEND Provision Matrix
Settings must provide evidence that they have contributed to additional needs, including the Pupil Premium (if appropriate) to provide target programmes, support and resources that are unique to the child individually or in a group environment. Schools are expected to fund up to £4000 from their base budget for the provision of high quality differentiated teaching (element 1) and an additional £6000 from their notional SEN budgets (element 2) to support their graduated approach as specified with section 11 of the Schools and Early Years Finance Regulations, 2015 (page 12).
In 2019 schools and parents helped to coproduce the SEND provision matrix that shows what provision is ordinarily available for children with SEND and can be found via the link below.
SEND Self Review
Telford and Wrekin has created a framework to support schools' self-assessment of SEND.
Parent Carer SEND Support workshop information January 2018