Activities & Events
Sports & Leisure
Activity

Address

Age range

MI / SI

Disabilities

Website / Contact / Email

Archery

Allscott Sports & Social Club Allscott, Telford

TF6 5EQ

All

MI

PD, WA

http://www.telfordarchers.co.uk/

Jayne Clarke

Archery

Newport CE Junior School, Avenue Road, Newport and Lilleshall Hall Dr, Newport

TF10 7EA and TF10 9AS

All

MI

PD, WA

http://www.audcoarchers.co.uk/

Paul Nelms

Boccia

Telford Boccia Bowls Club

Wombridge Church Hall, Telford, Shropshire

TF2 6HT

16+

SI

ALL

http://www.club2000.btck.co.uk/Youshouldgetoutmore

Andy Minty

07902274708

andrewminty217@btinternet.com

Climbing

Shropshire Climbing Centre

Springfields Industrial Estate Newport

TF10 7EZ

All

MI

LD, HI, VI

Karl

Cricket

St Georges Disabled Cricket Club

St Georges Sports & Social Club, Church St, Telford, Shropshire

TF2 9LU

All

SI

WA, PD

http://www.stgeorgesdisabledcricket.webs.com/

Ian Halford

Football

Telford Juniors FC

Doseley Road Playing Fields Doseley Road Dawley Telford Shropshire

TF4

All

SI

LD, PD, HI

http://www.clubwebsite.co.uk/telfordjuniorsfc/Home

Ian Preece

07545891769

Football

Madeley Sports FC

TCAT Soccer dome

TF1 2NP

Under 16

SI

LD, PD

http://www.disabilityfootball.co.uk/Madeleysports.html

Rob Coulman

01952 407198

r.j.coulman@blueyonder.co.uk

Football (Powerchair)

Lilleshall National Sports and Conferencing Centre, Near Newport

TF10 9AT

All

SI

PD, WA

https://telfordpfc.wixsite.com/telford-pfc

01952 606578

telfordprc@yahoo.co.uk

Gymnastics

Park Wrekin Gymnastics Club

Severn Drive, Dothill

TF1 3LE

All

SI

LD, PD

http://parkwrekingymnastics.com/

Peter McCready

Martial Arts

Chin Woo

Telford College of Arts and Technology, Haybridge Road, Wellington

TF1 2NP

All

SI

LD

https://www.facebook.com/Telfordchinwoo/

Lisa Grant

07939 667003

kungfu.lisa@hotmail.com

Multi Activity

The Club 2000 Sport and Leisure Club for the Disabled

New Rd, Wrockwardine Wood, Telford

TF2 7AB

16+

SI

ALL

http://www.club2000.btck.co.uk/

Michelle Bragg

01952 410585

Rugby

Shropshire Rugby Rebels

Telford College of Arts and Technology, Haybridge Road, Wellington

TF1 2NP

Under 18

SI

ALL

https://www.facebook.com/Shropshire-Rugby-Rebels-Disability-Tag-Rugby-Group-268990554256/

Val Edgley

val.edgley@virginmedia.com

Rugby

Unified Rugby

Telford College of Arts and Technology, Haybridge Road, Wellington

TF1 2NP

16+

SI

ALL

https://www.facebook.com/trsutrugbywestmercia/?fref=ts

John Barclay

Sailing

Telford Sailability Club

Priorslee Lake, Off Teece Drive, Priorslee

TF2 9SQ

All

SI

ALL

http://www.telfordsailability.mfbiz.com/

Paul
Key:
MI - Mainstream Inclusive
SI - Standalone Inclusive
PD - Physical Disability
LD - Learning Disability
HI - Hearing Impairment
VI - Visual Impairment
WA - Wheelchair Accessible
---
Adapted Bikes
At Telford Cycle Centre we have the equipment and expertise to provide a range of all ability cycling sessions. Including a set of tricycles and a front loader bike.
For more information visit the Cycle experience website or call Cycle Experience on 0330 024 1783.
Pre-booking required.
Telford Cycle Centre, Visitor Centre, Telford Town Park, Telford, Shropshire, TF3 4EP
---
Airea51 - Trampoline Arena
Here at AIREA51 we are keen to work with the local community and Children with needs, we have dedicated 3 sessions a week to allow all children the opportunity to come and have a play at airea51, our sessions are on Monday Morning 10:00, Wednesday 18:30 and Sunday 09:00, we turn off all the lights and music and our specially trained staff with experience looking after Children with needs ensure the children have a memorable time at AIREA51.
Please click here to visit our website to book a session
---
Charlotte's Tandems
Our borrowers are both children and adults. Tandems are a fun and safe way to get out and about as friends, a couple, family or group. They are available for hire for a couple of months at a time. We now have about nearly a hundred tandems and about a dozen tag-alongs all over the UK. They are with Borrowers for the vast majority of the time but looked after by the Volunteer Helpers listed below. If you would like to borrow one then please use the Contact tab above and Alex will put you in touch with the appropriate Helper. The disabilities and special needs of our borrowers have so far included: Severe Learning Difficulties, Autism, Aspergers, Blindness, Visual Impairment, Down Syndrome, Cerebral Palsy, Stroke, Amputation, Hearing Loss, Dyspraxia, Arthritis, Fibromyalgia, Parkinson's, MS, ME, CRPS, COPD, Hemiplasia, Tuberous Sclerosis, CHARGE & MPS III.
Visit Charlotte's Tandems website
---
Cycle Experience
Cycle Experience are thrilled to be able to offer a wide range of cycle training activities out of the Telford Cycle Centre, situated in the heart of Telford Town Park. They also provide guided cycling and even training.
---
Disability Adventure Weekends offer - Pioneer Centre
Our aim is to release potential every person who walks through our doors. The Pioneer Centre located near Kidderminster offers a real taste of the outdoors, it is often described as a home away from home because of our fantastic staff team and peaceful surroundings. As well as our adrenaline fuelled outdoor activities, there are also plenty of opportunities to experience the natural environment by learning about local wildlife and plant life. With 18 different activities there's plenty of opportunity to learn new skills, conquer fears and have plenty of fun! Our most popular activities include indoor caving, zip wire and an inflatable obstacle course we like to call Big Bounce!
Pioneer Centre, Shropshire - NAYC-ACUK Activity Centres (naycacuk.co.uk)
---
Disabled swimming
Disabled Swimming sessions with the Wrekin Special Swimming Club.
Visit the Telford & Wrekin leisure website
---
Disability Snowsport UK
Disability Snowsport UK is a people-centred organisation with a unique sense of purpose: that anyone regardless of their disability can take part in and enjoy the thrill of Snowsports. We have applied exceptional know-how and adaptability for over 30 years to enable those with a disability to experience the joy of skiing alongside the able-bodied. We provide exciting and life enhancing activities for individuals or groups who require adaptive equipment and/or special instruction and support.
Disability Snowsport UK
---
Disks Disability Kids Sport
Offer sports and leisure activities for local children and their families to take part in various activities across the borough.
Please email diskstelford@gmail.com for more information
---
HLC hydrotherapy
You can access the Hydrotherapy pool at Hadley Learning Circle on a weekend.
---
Ice skating
Go ice skating at the Telford Ice Rink. Go with parents or friends and free skate and have fun!
---
Madeley Ability Counts Football Club
There's never been a better time to get involved and play disability football. Opportunities for players with disability to access football and various levels have grown incredibly over the past few years.
Some children are enthusiastic players who like nothing more than a kick about with their friends/peers and enjoy the social aspect of this participation. Others may have ambitions to develop as a player and to potentially play for teams and clubs. The good news is that the systems are in place for children to access football at the level that meets their needs and aspirations.
Shropshire FA support a number of FA 'Ability Counts' Football sessions. These clubs have shown a commitment to proving opportunities for children to take part in coaching and in some cases competitive football competing in the FA Counties Ability Counts League.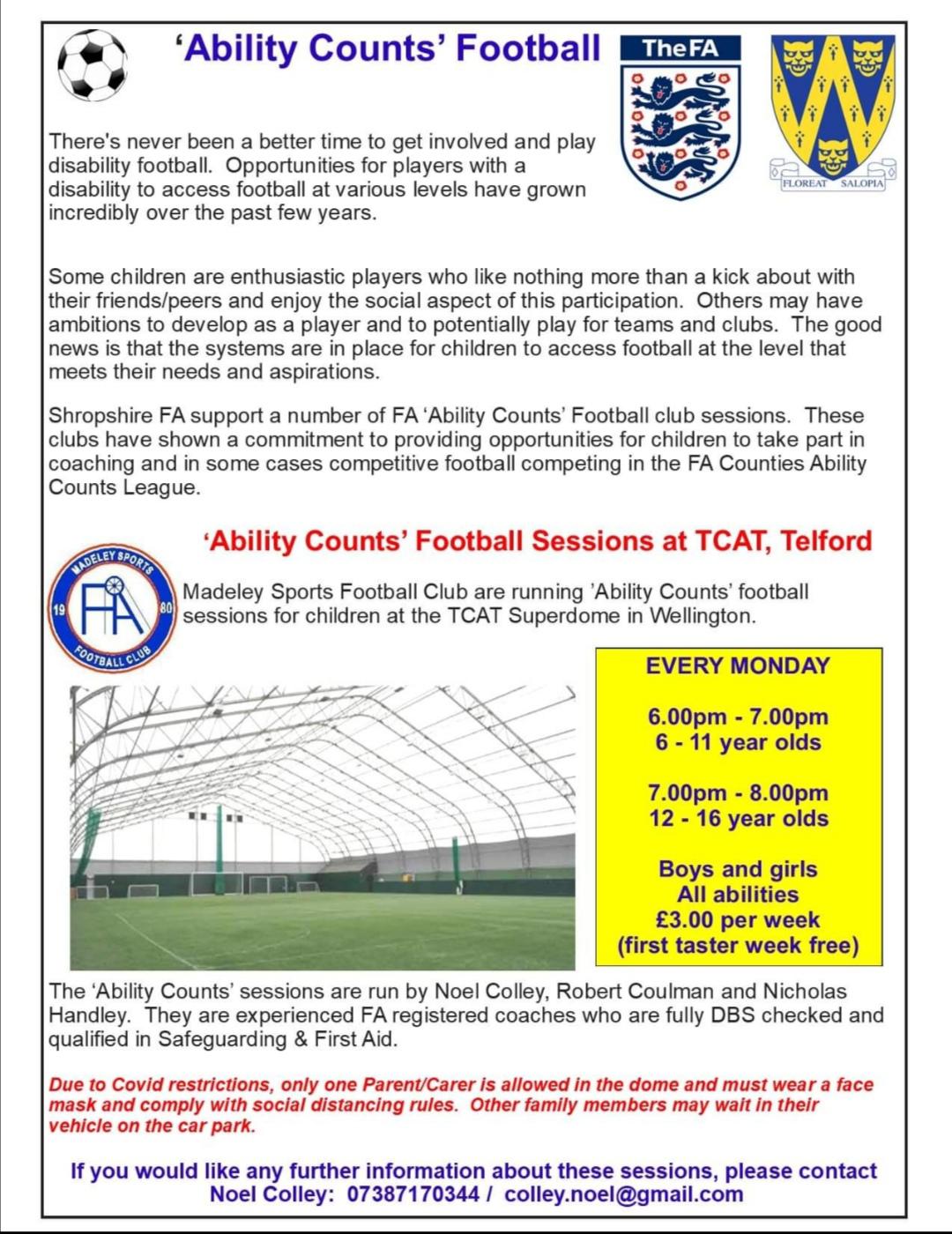 ---
Tots on Ice
Tots on Ice is a skating time for children under 5. Adults can enter for free and spend time skating with their children.
---
Telford Leisure Services
More and more people are realising the benefits of a healthy lifestyle. Feeling fit and healthy is a key element of physical and mental wellbeing and exercise is a great way to look after your body and a perfect way to relax.
Check out Telford & Wrekin Leisure website to find out their about holiday activities.
Telford & Wrekin Leisure services
---
Inclusive swimming lessons
All four pool sites within Telford & Wrekin (Wellington, Abraham Darby, Oakengates and Newport Pool) provide separate Junior and adult disability learn to swim sessions and these have been developed to bridge the gap between 1-1 lessons and mainstream classes. Fully qualified ASA swimming teachers at these sites deliver the disability lessons with enhanced knowledge of disabilities and cater for all abilities from beginner and upward, the emphasis is on learning through fun based sessions following the ASA Alpha Awards with a goal of working towards accessing mainstream swimming classes.

For more information contact one of the Swim4Life co-ordinators below based on your preferred site. The co-ordinators will then be able to determine the best way forward with the disability sessions.

Abraham Darby Sports & Leisure Centre
Email Matthew Haskew: matthew.haskew@telford.gov.uk Telephone: 01952 382770

Wellington Civic & Leisure Centre
Email Ruth Giblin: ruth.giblin@telford.gov.uk Telephone: 01952 382720

Oakengates Leisure Centre
Email Tracey Jones: tracey.jones@telford.gov.uk Telephone: 01952 382810

Newport Swimming Pool
Email Rebecca Nicholson: Rebecca.nicholson@telford.gov.uk Telephone: 01952 382740
---
Park Wrekin Gymnastics Club
Gymnastics Classes For Age 2+
Gymnastics Classes are available for all in our purpose-built gymnasium.
Park Wrekin Gymnastics Club offers a full range of gymnastics sessions, structured by age and/or ability. We have three different Pre-school classes, from toddlers to school age.
At school age, all our gymnasts automatically progress into the Beginners. Once Beginners have learned basic skills in a fun and friendly environment, they move on to Recreational, Advanced and Elite classes depending on their ability and inclination to achieve awards and compete.
We even have Adult sessions, for those aged 16+, providing fitness-based training, followed by a chance to have a go on all the equipment.
Pre-school Classes £5 session (paid monthly)
General gymnastics 5 years plus £6.25/hr (paid termly – 3mths)
For further information on costs please visit our website.
Please visit our website for further information. Classes are available to be book online via once registration is completed.
01952 257646
Park Gymnastics Centre
Severn Drive
Wellington
Telford
TF1 3LE
---
Perry RDA
The Cavalier Centre will be a designated centre for the Riding for the Disabled Association, and the home of Perry RDA Ltd, one of over 600 RDA groups throughout England, Wales, Scotland and Northern Ireland providing people with disabilities with the opportunity to improve their physical and mental health through education and fun with horses.
---
Shropshire Climbing Centre
Shropshire Climbing Centre offers a state of the art bouldering and roped climbing facility in Newport, Telford.
Whether beginner or expert, Shropshire Climbing Centre offers something for every climber or aspiring climber. We have provided sessions to people with additional needs, please get in touch to see how we can provide you with a great climbing experience!
---
Tag Rugby
Tag rugby is a non contact, fun sport, which helps with confidence, boosting self esteem, encouraging teamwork; it also helps keep children fit and healthy. We meet at the Dome at Telford College of Art and Technology (TCAT).
Shropshire disability tag rugby webpage
Telford Summer Cycling
Travel Telford have an exciting programme of cycling activities for children and adults of all ages and abilities. The activities offer people the opportunity to take part in a range of cycling skills, games and competitions, make new friends and have fun whilst riding their bikes!
---
Telford Sailability
Did you know that the Telford Sailing Club in Priorslee caters for disabled sailing?
Telford Sailability is a non-profit organisation aiming to provide boats and equipment for the use of people with learning disabilities in the Telford and Wrekin area.
---
Wheelchair sports/activities
Powerchair Football
Lilleshall Sports Hall
Every Thursday 6pm - 8pm
Initial 4 weeks trial
Contact Julian Harrison on 01902 843491
Email Telford PCF
Wheelchair Tennis
First Point Telford Tennis Centre – Oakengates
Monday evenings
£5 per session
Email Sporting Club Rhinos