You are here:
Home
| Guidance for Young People applying for Post 16 Education (with an EHCP)
Guidance for Young People applying for Post 16 Education (with an EHCP)
Guidance for Young People applying for Post 16 education (with an EHCP)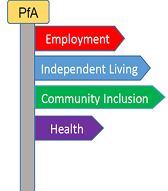 We have designed this guidance for all young people who have an Education, Health and Care Plan who live in Telford & Wrekin to help them plan their Post 16 transition and consider their future career prospects. Included is information about educational settings in our local area and an explanation of how young people can express a preference for the setting they wish to attend.
The stages in the process include:
• Young people /parents attend an EHC Plan Annual Review meeting to discuss Post 16 options.
• Opportunities to attend open days and apply to colleges.
• Completion of a preference form to let us know your wishes and consult with providers.
• A draft EHC Plan with the proposed placement is prepared.
• A final EHC Plan that identifies the allocated placement is issued.
(DfE direct Local Authority's that it must be issued by: 31 March 2020)
Most young people who have an EHC Plan attend local Post 16 placements where their needs are met successfully. Information about local mainstream colleges is provided in section 18, for sixth forms attached to schools the information is provided in section 17. Where specialist educational providers are being considered further information is given in section 20. For young people seeking information about vocational training providers section 19 gives further detail.
Students will also be able to request information and support from the Special Educational Needs Co-ordinator (SENCo) at their current placement, the school's careers advisor and, if available, the student's Future Focus Advisor.
We will be working over the next year to finalise this guidance through consultation and coproduction with parents, carers and young people with SEND.
More information can be found via the links below.