Guidance to short break personal budgets
Short breaks are part of a continuum of services which support children in need and their families. They include the provision of day, evening, overnight and weekend activities for the child or young person, and can take place in the child's own home, the home of an approved carer, or in a residential or community setting.
This guidance applies to disabled children/young people 0-18 and their families. The breaks have two aims: to enable the child to participate in fun, interesting and safe activities; and to provide a break from caring for the parents.
The legal basis for short breaks is identified within:-
The Children Act 1989 S.17 which sets out the local authorities' powers and duties to provide support services for children in need and their families. The definition of children in need includes children who are disabled within the meaning of the 1989 Act (section 17(11) states: '… a child is disabled if he is blind, deaf or dumb or suffers from mental disorder of any kind or is substantially and permanently handicapped by illness, injury or congenital deformity…').
Children and Families Act 2014 gives parents and young people the right to request that the local authority prepare a personal budget. Special educational needs and disability code of practice 0-25 – 2015 (COP)
'A Personal Budget is an amount of money identified by the local authority to deliver provision set out in an Education, Health and Care (EHC) plan where the parent or young person is involved in securing that provision'. (COP)
As a local authority Telford & Wrekin are implementing the delivery of Short Breaks through the use of Personal Budgets. This will support a fairer, more transparent method of providing families with the support they need.
In order to deliver Short Breaks the Disabled Children Team (DCT) will use a Resource Allocation System (RAS), which is basically a method of identifying a level of funding, referred as an indicative budget. An indicative budget is a starting point for conversations when discussing a child/young person's identified support needs in order to meet agreed outcomes.
A number of other local authorities are already using this model, including Newcastle City Council (NCC), which was one of the first local authorities to offer Personal Budgets to disabled children. We would like to acknowledge the support and training that NCC and In Control have provided, as well as the commitment and direct work that representatives from Parents Opening Doors (PODs) have provided.
We have based our system on Guidance which was funded by the Department for Education (Sept. 2014) Making it Personal: A Family Guide to Personalisation, Personal Budgets and Education Health and Care Plans.

This guidance relates to the questionnaire, which is completed as part of the RAS process.
Why is the questionnaire being completed now?
The questionnaire is an essential part of the Resource Allocation Systems (RAS).

All families who currently have support from the Disabled Children Team, such as Agency Support, Direct Payments, overnight Short Breaks, are going through the process of switching over from a system where access to services are decided by a 'Panel', to this more direct, personalised approach.
In preparation for this we have trained staff, engaged with families, and worked with the Specialist Commissioner for Disabled Children. We are also a pilot site for SENDirect, which provides an 'on-line market place'.
What do the changes to funding mean for families?
The current funding has historically been used by the Council to purchase services on behalf of children; sometimes this locks us into contracts, which tend to be inflexible.
It is recognised that families are generally better at deciding what services, or other provision will suit them best in meeting the agreed outcomes. Social Workers and/or Case Workers will support families in considering options through the planning process. They will discuss with the family how the outcome of the RAS questionnaire indicates the level of funding.
Exceptions to the Resource Allocation System (RAS) table will always be considered carefully. We will listen carefully to any family who think that the will not meet the child/young persons identified outcomes and we will work with the family to make sure that the child receives the support they need.
A final decision about funding is never made until the support plan has been completed.
What do I need to know about completing the Short Break Questionnaire?
This questionnaire:
only applies to Social Care – short break provision
is only completed after an assessment by Telford & Wrekin Disabled Children Team (DCT)*
is a tool that is completed in partnership with a family, where possible the child/young person is actively involved in the discussion?
always complements the assessment it does not replace it. The needs and outcomes for a child/young person will be agreed through the assessment process
the plan is outcome based and will be subject to 6 monthly reviews, and where possible we will link this with an Education Health and Care Plan
aims of short break provision is to support independence and inclusion, and develop positive family relationships.
*The assessment may be a Child & Family Assessment, which will be completed by a Social Worker, or a Common Assessment (CAF) if completed by a Case Worker from the Inclusion Support Team.
In Control have provided a useful diagram to explain the process, 7 steps to self-directed support. The questionnaire is stage 2 and identifies 'What resources have I got'?

Every family will have a different level of access to personal and community resources. The planning process will include support from all of the quadrants, building on existing family strengths and the wider communities.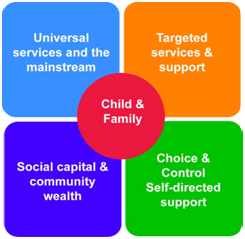 Adapted by In Control from the Quadrants of Personalisation developed by OPM.
The Council cannot make an absolute commitment on how it will deliver services in the future. Our ability to carry through the work we intend to do is always dependant on the funding we receive from Council tax payers and Central Government.
If the overall budget changes we will return to discussions with families to explain how these have affected the Council's plans.
Questionnaires and the RAS tables
First published January 2016. To be reviewed July 2016