As you may already be aware, changes have been made to the law for children and young people who have special educational needs and disabilities. One of these changes is the way in which children and young people receive support from their educational establishment.
From September 2014, no new Statements of Special Educational Need have been issued. The majority of children and young people will have their needs met by their local educational establishment. To see what is available in local establishments, please see Telford & Wrekin's Local Offer.
Statements are being replaced with Education, Health and Care Plans (EHCPs) through the Transfer Review process. This incorporates an Education, Health and Care Needs Assessment (EHCNA), seeking advice from relevant professionals, school and parents/carers.
Transfer Review Process
The Transfer Team will notify you at the beginning of the academic year during which the Transfer Review will take place.
The Transfer Review replaces the Annual Review, so is usually held when the Annual Review would take place. Your child's school will contact you to arrange a convenient date and time, and will also invite any relevant professionals who support with your child's special educational needs.
The Transfer Team will write to you two weeks prior to the meeting to confirm arrangements. This letter marks the beginning of the Transfer Review process. The local authority has 20 weeks from the date of that letter to finalise an EHCP, if one is to be issued, and 14 weeks to notify you if it proposes to cease to maintain your child's statement.
View the Transfer Review Timeline
Enclosed with the letter will be a parental views form. This gives you an opportunity to provide us with your contribution to your child's plan, such as your aspirations for your child and their future. You may wish to use this form as your contribution; alternatively you may submit your views in another way, such as typed up and printed out. Support is available from the Independent Support Service (details below).
Usually, key workers at the educational setting will assist with gathering the views of the child, but they may be sought by another professional working with them. Parental permission is always gathered before professional involvement commences.
Transfer Review Meeting
The Transfer Review meeting will include a review of the child's progress, steps made towards achieving the objectives in their statement, and a discussion about their special educational needs and whether they require additional support through an EHCP. If the recommendation is for the Statement to transfer to an EHCP, Long Term Outcomes will be discussed. These replace the Objectives that were previously written in the Statement.
In addition, the school will have sought any relevant updated reports which may help shape the Long Term Outcomes.
What Happens Next?
After a decision has been made at the meeting and the paperwork has been submitted to the local authority, the Transfer Team will write to you and the school to confirm the outcome of the meeting. If the decision is to issue an EHCP, the Transfer Team will being drafting the plan and then issue a draft plan and copies of advice used. You will have the opportunity to discuss the content of draft plan with the Transfer Co-ordinator or the author or the plan. If there are no changes to be made, a final plan will be issued.
If all parties are in agreement that the child does not require an Education, Health and Care Plan, as their needs are being met within the school's Local Offer, the Transfer Team will write to inform you that the statement will be ceased. The letter will include details of your appeal rights under the new law.
Telford & Wrekin's Transfer Schedule
Local authorities have until 1st April 2018 to complete all Transfer Reviews. The local authority has progressed as per the schedule which was published and updated annually and all children with a statement will undergo a transfer review this academic year, regardless of their year group.
Year 2 pupils moving from an infant to junior school and Year 6 pupils must have their Transfer Review finalised by 15th February 2017.
Local Contacts
If you have any queries about the transfer process, please contact Gemma Steinert, Transfer Co-ordinator on 01952 380780 or Natalie Hesbrook, Transfer Support Services Assistant on 01952 388682.
Feedback
You will receive a paper questionnaire when the draft EHCP is formally issued.
If you would like to submit any other comments, please email them to gemma.steinert@telford.gov.uk or post them to:
Gemma Steinert
SEND Team
6B Darby House
Lawn Central
Telford
TF3 4JA
Transfer Review Annual Report and Parental Feedback
Annual Report
The Telford & Wrekin Transfer Team has completed the majority of transfers from statements to EHCPs. The team has until the end of March 2018 to ensure all statements have either been transferred to plans or ceased.
A number of transfer reviews have already been booked in for 2017-18 and the team have identified that all transfer reviews should be completed by the deadline.
All LDAs which were identified as requiring a transfer to an EHCP have now been concluded.
Below is a summary of the Transfer Review statistics for calendar year 2016:
The number of Telford & Wrekin children with a statement which transferred to an EHCP during the calendar year is 382.
38.31% of the total number of children who have a statement were transferred to an EHCP during 2016.
As reported on 21st January 2016, the overall progress towards transferring statements to EHCPs in Telford & Wrekin compared to other Local Authorities is:
• Telford & Wrekin – 48.90%
• West Midlands – 35.90%
• Statistical Neighbours – 33.47%
• England – 32.70% *
* Source DfE Census Return
Parental Feedback
We asked parents for their feedback via a questionnaire on a number of areas such as how well their views were captured during the transfer review process the content of the draft EHCP.
Below is a summary of the feedback provided by the parents of 27 children who have had a draft EHCP issued between March and July 2017.
The statistics show some strengths, for example, the Transfer Review process and the content of the draft EHCPs. There are some notable areas for development which will be addressed.
One particular focus is to increase parental involvement during the Transfer Review process. To help promote parental involvement, the Transfer Review information on the Local Offer has been rewritten with a stronger emphasis on how parents/carers can engage with the process. We are raising the profile of coproduction meetings before the draft EHCP is formally issued, involving parents at the earliest opportunity throughout the process.
The questionnaire return rate was approximately 17%. We hope that highlighting the importance of involving parents/carers will encourage more people to complete and return the questionnaires. It is really important that we gather this feedback as it helps to develop the service we provide for children and their families and helps work towards an even more family-centred approach.
Summary of Questionnaire Information
Out of all of the questionnaires returned, the LA was rated 'OK' or better 98.9% of the time in areas such as how well we listened to parental views and how easy the plan was to read (see pie charts for breakdown of answers).
We also asked parents if they felt they had enough time to respond within the timescales provided; 24 out of 25 parents answered 'yes'. Twenty four out of 25 parents also felt that the plan was reflective of their child's views.
When asked to rate how easy the draft plan was to read and understand, over 77% of parents rated this as 'easy' or 'excellent'.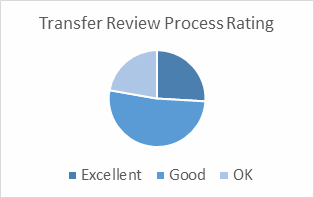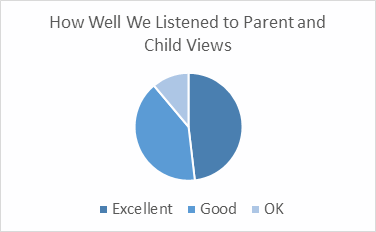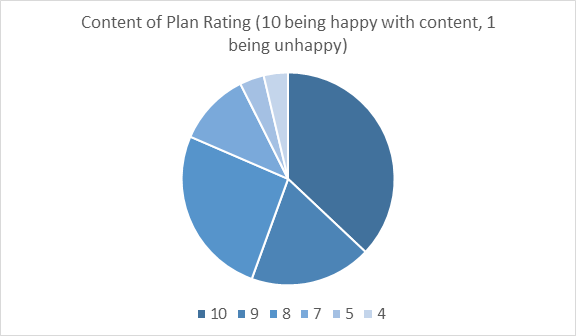 Transfer Review FAQs
1.
Q) Does Transfer Review mean transfer to a different school?
A) No, a Transfer Review is the process of transferring the current Statement of Special Educational Needs to an Education, Health and Care Plan (EHCP), if appropriate.
2.
Q) Will the LA cease my child's statement without my agreement?
A) No, the Transfer Review process isn't about ceasing statements.
3.
Q) If my child's statement ceases, and an EHCP is not issued, will my child lose support in school?
A) No, schools can provide a high level of support without the need for an EHCP. They have a range of resources available from within their own budget. You can find out more about the specific provision available in schools via the "Find a school" category on the Local Offer homepage
4.
Q) What has the LA done to involve children and young people in the Transfer Review process?
A) The Transfer Co-ordinator and Access to Activities Team Leader worked with young people from the Telford & Wrekin Forum for Young People with Disabilities (FYPD) to create a leaflet for young people, by young people. Ideas were provided by members of the FYPD over a number of sessions and they contributed to the final design and content of the leaflet. The leaflet can be found and downloaded here.
5.
Q) What has the LA done to involve parents/carers in the process?
A) A questionnaire is sent out to parents/carers when the draft EHCP is issued. You can find a summary of the feedback provided by parents/carers via the "Transfer Review Annual Report and Parental Feedback" content above.
6.
Q) What if I don't agree with the content of the draft EHCP?
A) Before the draft EHCP is issued, you are invited to attend a meeting to co-produce the plan with a member of the Transfer Team. When the draft EHCP is issued, there is another opportunity to provide comments on the plan and/or to meet with a member of the team again.
7.
Q) How do I seek support from social care services?
A) This can only be done via a self-referral to Family Connect. We are unable to refer on a family's behalf. Family Connect can be contacted on 01952 385385 or at familyconnect@telford.gov.uk.
8.
Q) How do I request an Education Personal Budget?
A) Please click here for information about Education Personal Budgets.
9.
Q) How long does the Transfer Review process take?
A) We have a maximum of 20 weeks to conclude the Transfer Review; this means finalising an EHCP if one is required. If the statement is to cease, we have to notify you by week 14 (which is 12 weeks after the Transfer Review meeting).
Each case is individual and there is no set expectation of how long it will take. Certain factors can be of consequence, such as if we are expecting additional advice from an agency, or if there is a delay in obtaining vital information such as parental consent. We aim to complete all Transfer Reviews as swiftly as possible but without compromising the quality of the EHCP.
10.
Q) What if I have not heard anything from the Transfer Team for a few weeks?
A) You will be notified at key stages throughout the Transfer Review process. If you would like to check on the progress of the transfer, please feel free to contact the team on 01952 388682
11.
Q) What if, after the Transfer Review meeting, I have additional information that I would like to submit?
A) You can submit additional information during the Transfer Review process, before the plan is finalised. This would be a good time to request a coproduction meeting.
Information, Advice and Support Service (IASS), formerly the Parent Partnership Service, on 01952 457176. Alternatively,